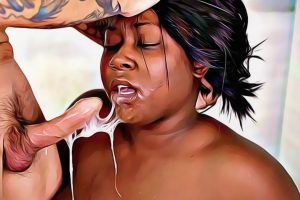 This grape soda drinking slut doesn't last long here, just 34 minutes of attempted skull fucking and she taps out.
She probably thought this was going to be an easy ride. Suck some cock and take the check. Unfortunately that isn't how it works here.
The scene opens with her taking a bladder full of piss. She is already looking dejected and ready to quit. Covered in urine she wants to assert some dominance.
No chance though. Soon she has a white cock lodged in the back of her throat. She is finding it difficult. Bootleg isn't impressed as he slaps her repeatedly and shouts at her.
She isn't being cooperative. She is blocking the cock. Eventually he notches in there balls deep and makes her gag.