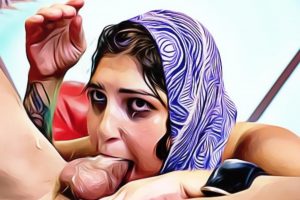 Mandy Meadowland is back wearing a hijab.
She could well be an undercover Iranian spy!? The guys at Facial Abuse are putting her through a rigorous interrogation process.
Tied to the ceiling her naked body is whipped until she is yelling out in pain. These guys want answers out of this slut now!
She assumes the submissive whore position down on her knees and gets ready for the onslaught of cock. The dicks go in hard and fast until she is vomiting into the whore bowl.
Time for some yellow discipline and the first of 4 bladder loads of piss. Yep 4 guys take it in turns to piss all over this dirty slut!
Next comes the anal. She seems to be very uncomfortable as the hard cock gapes her tight little asshole. She is practically screaming for mercy as her butt gets impaled.
Her final task is to take 3 loads of cum on her face. She is sat there dejected as the jizz and piss drips off her face.