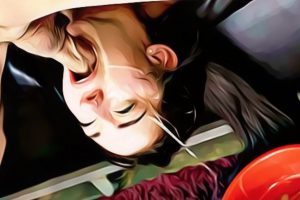 This 22 year old said she started watching porn when she was just 12 years old!
In fact she has been watching facial abuse videos and fantasizing about having cock down her throat for quite some time and that is no joke!
This is her first time in front of the camera, the brunette slut is eager to get her head fucked as she assumes the submissive whore position on her knees.
Her big tits bounce as the rock hard cock smashes into the back of her skull. She was certainly aiming to please as she takes the cocks in her face from multiple angles.
It's not long before she is gushing up some kind of weird yellow bile that looks like ectoplasm!
Trust me when I tell you this amateur gets degraded and abused from start to finish. Lots of mess that climaxes with a double facial.