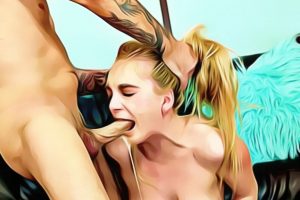 Nineteen year old slut Casey Ballerini says she has had a hard life.
She failed at everything at life, but she doesn't fail at taking a dick to the balls! Watch as this 19 year old blonde with big tits gets her throat jammed full of cock.
You can tell her IQ is on the low side when they interview her. She doesn't seem to know what day of the week it is; never mind she is here to shoot some extreme skull fucking!
Taken unawares Bootleg nails this teen with his angry dick. You can see how rough he treats her, there is no holding back.
Hear those sounds? She is gagging hard but she doesn't puke.
After some more than aggressive pussy fucking she takes 3 big loads of cum to the face.