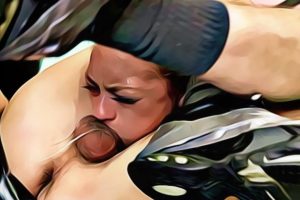 There are no shortcuts to extreme deep throat.
Bootleg certainly makes sure of that. As soon as she assumes the submissive whore position on her knees she is taking hard cock deep in the back of her throat until she gags.
Can you hear those gagging sounds? Things only get more intense as Bootleg deploys his signature deepthroat headlock.
Just look at all those fluids pouring out of her mouth. Lots of slop, lots of throat bile and stomach juices.
On her back they take it in turns to drill her skull with extreme prejudice. She has practically given up by this point. Just an empty shell for these guys to screw.
Some nasty hardcore pussy penetration before she takes two loads to the face.