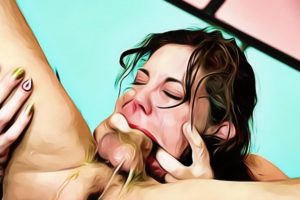 You know she is a filthy whore when she comes back for more!
Anal and vaginal sex; double penetration, ass to mouth and degrading deepthroat, this homeless looking slut is willing to do it all for cash.
Lots of slop for this one, Bootleg makes sure he really notches his cock deep inside her oesophagus. It's not long before she is emptying the contents of her stomach all over the floor. What a mess!
This is savage stuff as Bootleg deploys his infamous face fuck headlock. Wrapping around her neck and forcing her to breathe around the cock.
Next up her ass and pussy. They smash both with pure aggression. She is whimpering and yelling as two 9 inch cocks destroy her tight ass.