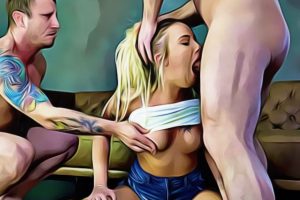 Blonde whore Layla Love does Facial Abuse.
Mr Pete and John Strong make her work for it. Shoving their hard cocks down the back of her throat making her gasp for breath and ultimately making her puke her guts up.
Somebody forgot the whore bowl though. As you can see they use a substitute a new silver bowl to catch all that slop.
The 19 year old is put under pressure, made to eat out their asses. She seems to be enjoying it though as another dick slides into the back of her throat.