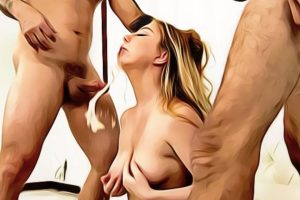 Messy face fucking puke!
This blonde gets her soft wet throat worked over by porn veterans Steve Holmes and Mr Pete until she is vomiting all over the porn set. Her sloppy mess seems to go everywhere.
On her knees the red whore bowl is placed in front of her ready to catch her slop. Their big hard cocks then slide into the back of her skull until they can touch her tonsils.
The tonsil bashing begins and after only seconds her stomach rumbles and she vomits into her hand!
Things are only just beginning. Her ample tits bounce around and more spew exits from her mouth as the intensity of the deepthroat increases.