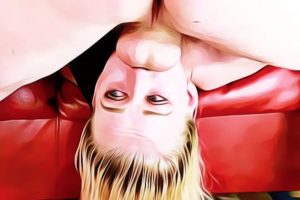 Skinny 19 years old blonde gets her throat & pussy abused for your viewing pleasure.
There are lots of smiles and jokes at the beginning of this scene. She was so very excited to be doing a porno.
Even though she wasn't that experienced when it comes to sex this teen was admittedly an excellent deep throater and she takes the big cocks down her gullet well.
Things turn south for her real fast though and her excitement soon waivers. The scene just turns into total abuse, these guys constantly smashing her gullet with aggression.
Slaps to the face and getting spit on start to take their toll. Combine that with the manhandling and the rough sex and she was no longer having a good time.