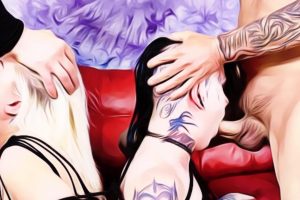 Two dirty whores!
Check it out as their two wet mouths and tight soft throats service two big hard dicks.
Each slut tries to outdo the other one with her deep throat gagging. How deep can they go? Down to the balls until they are choking and spewing up all kinds of stomach juices.
Plenty of hard slaps to the face are given to keep these two in line. With things getting messier by the second they move onto sharing each other's slop!
Nothing is too degrading or humiliating for this pair of misfit whores.