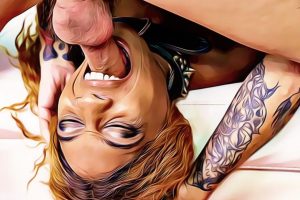 She is very unresponsive as the camera start rolling; unwilling to engage in conversation. The solution is to piss on her face!
Duke & Bootleg do the business emptying their bladders all over her face and in her mouth. Her first time being pissed on, who would have guessed it!
With the formalities out of the way it's time to stab her throat. Bootleg and JD take center stage with their brutal face fucking.
They force her to go balls deep on their meaty cocks and It's not long before the slops begins to fly. She is even told to eat out Bootleg's ass just to show her her place!
A variety of degrading and aggressive face fuck positions are applied to her skull. She looks all out of gas by the time it comes to smashing her tight pussy.
The finale sees her miserable face getting coated in 3 loads of sticky love piss.