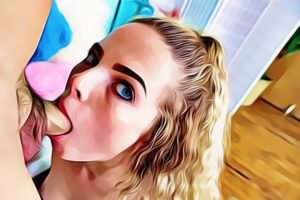 Cock choking German slut!
Hailing from Deutschland this dirty blonde is set upon by two angry American dicks. They make short work of turning her nervous smile and giggles into a frown and tears.
She assumes the submissive whore position on her knees and is soon gobbling down 18 hard inches. Down to the balls she goes. Can you hear that?
Her tummy is rumbling and then all of a sudden there is an explosion as puke flies everywhere. These guys have only just started to use and abuse this hooker.
Her face is slapped, her throat smashed, her mouth urinated into and her pussy gaped wide open. It is a world wind ride for her.
After crying her eyes out she gets ready for her cum facial. They dump multiple loads of cum on her face leaving her dripping with semen. What an absolute disgrace she is!