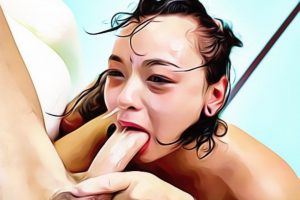 Some tight Asian pussy & throat for you to dominate!
As per usual she is all laughs and giggles before reality hits home. An erect 9 incher (reality) is then stuffed down her quivering wet throat.
Bootleg loves to smash these oriental bitches and he goes full on beast mode. His thick long cock gaping her throat hole wide open. She holds on tight and endures the onslaught.
At various points in the scene (three in fact) she is given a face full of piss. It's all too much for her to take and the tears are starting to show.
Then it's back on the cock as she takes it balls deep in her throat. These guys absolutely destroy this little Asian whore.