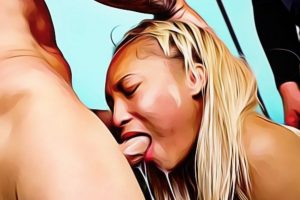 18 year old ghetto sister brings shame to the hood!
Is that even possible? I think this hooker has managed it. The scene starts with her eating out Bootleg's ass, I mean how degrading can you get?
Well that is just for starters. They then proceed to take it in turns to piss all over her. Covered in urine the violent face fucking begins.
Two aggressive white boys then smash this sister deep inside her skull. It is balls deep as you can see; so deep that eventually she is puking her guts out.
So after getting urinated on again, they strap a toilet brush to her face and make her clean out the whore bowl.
As if she couldn't feel any lower, she takes 2 loads of hot cum on her face. What a complete disgrace she is.