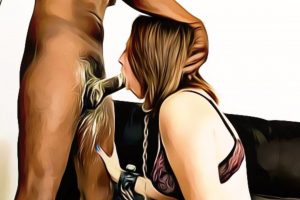 Kinsley Ann versus Richard Mann's 11 inch big black cock!
As soon as she saw the huge black dong she knew it was going to be a difficult task to go balls deep. She puts in a good effort though; and the results are messy!
The massive thick BBC impales her skull hard causing her to puke up all kinds of chunks and fluids. Chained up there is little she can do to resist this oral onslaught.
From multiple angles the face fucking puke progresses at a rapid pace. After the sloppy deep throating session attention turns to her quivering wet pussy.
Slammed and smashed she takes a real pounding from this angry brother. Taking the hardcore fucking of her life she next assumes the submissive whore position on her knees.
Two brothers then proceed to ejaculate all over cracker face!