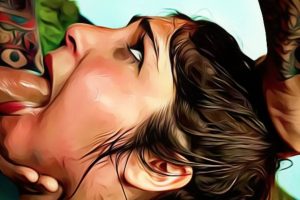 This is 27 year old whore Mandy Meadowland from Chicago.
Big brown eyes and long brown hair she strips naked to reveal her less than flattering butt. She says she likes to sing and deepthroat dick; what a great combination of skills!
Down on her knees she gets ready for the onslaught. Two guys with big angry hard cocks start to attack her throat. Opening wide they impale her head down to the balls.
This girl can't definitely deepthroat, not too sure about her singing though. It's a rough one that's for sure, coughing and spluttering she can barely catch her breath as they hammer down her throat hole.