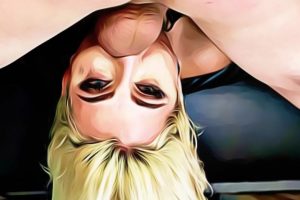 Dirty blonde whore covered in tattoos here to entertain you.
You may have seen this cock sucking slut before, this time she is letting all her holes take punishment. Intensive cock gagging of course but also some intensive double penetration.
The bald guy works his magic like a charm, smashing down the back of her gullet with his angry dick. He is on a mission to make her puke and that is exactly what happens here.
Just when you think she has had enough, JD smashes her throat too. Every single position is applied to her face. They want that slop in the whore bowl now.
By the end of the scene she looks an absolute mess. Her eyes bloodshot, drool pouring from her mouth. What a disgrace she is. The only thing left is to cum on her face and pour slop over her.