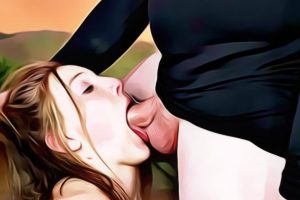 Hippy chick who loves to get face fucked.
She is actually a circus performer. After she has done some handstands JD comes in to spoil the show.
Slapping her face, grabbing her by her long hair he smashes his big hard cock down into the depths of her gullet.
She puts on a good performance for sure. She is able to take his meat all the way in the back of her skull while looking deep into the camera.
Struggling for breath she is certainly getting a kick out of swallowing 9 inches of man sausage. Every deepthroat angle is deployed. She is well and truly penetrated in her face.
Plenty of slaps, JD works this whore to the end. Her pussy smashed, face coated in cum and finally she takes the bowl of slop over her head.