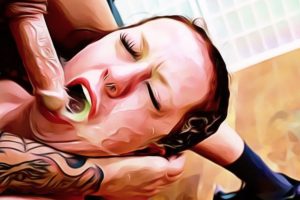 Clueless?
This redhead stripped doesn't know what she is getting herself into here. It's all jokes and smiles when the camera starts rolling.
But as soon as Bootleg makes her puke on his cock she realizes she has made a mistake. JD goes to work on her throat too, ensuring that she takes his hard shaft down to the balls on every stroke.
Slaps to the face and verbal abuse this is brutal stuff. She is completely dumbfounded and lost by the whole experience. She looks an absolute disgrace covered in her own vomit.
Treated like a piece of shit they continue to exploit her throat and pussy. She is certainly very compliant and obeyed every command.
The finale sees her take both loads of cum all over her miserable face as well as her own slop all over her head.